The breeze of spring blew faces together with warm sun, everything was so clear. On 26th March 2021, when spring came again, Corel, the leading software company of the world, together with Suzhou C&J Marketing Software Co., Ltd. (hereinafter referred to as C&J Marketing), launched the latest Chinese version of CorelDRAW2021.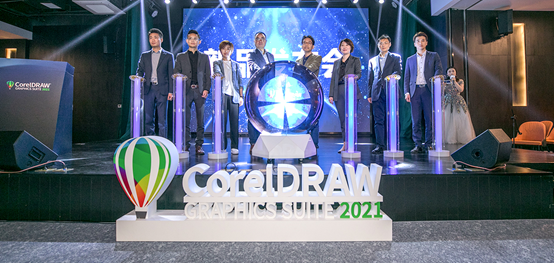 At the press, Elaine, Vice President of Sales of C&J Marketing, made a speech on behalf of company. She said that CorelDRAW, as the global leader in graphic design software, has always been a very important design and creation tool in advertising industrial field. As the exclusive partner of Corel in China, C&J Marketing thanked Corel for their hard work in launching the new version. For designers, CorelDRAW2021 will have more powerful functions, user-friendly interface, will be easier to use, and more comfortable to experience. At the same time, C&J Marketing also believed that the new version can better empower the enterprise users, so that the enterprise users can create more added value when designing, so that inspiration can light up the market and creativity can drive the future.
'This has been the third year that Corel introduces the new version of CorelDRAW to nationwide customers in Suzhou, in March annually, since working with C&J Marketing.' said Yong Zhang, China Country Manager in Corel. 'Over the years, the cooperation between Corel and C&J Marketing is pleasant, with mutual trust and mutual benefit. So, there is the reason to look forward to the future of CorelDRAW2021.'
Subsequently, John, global product director of CorelDRAW, and Su Zhang, chief expert of CorelDRAW in China, respectively talked about the new version of CorelDRAW2021, and demonstrated the new functions.
Due to the COVID-19, to allow more users to know the new products in real time, this conference was carried out in the way of online broadcast. C&J Marketing said that it will continue to focus on bringing more and better software products to domestic users and benefiting more individuals and enterprises in the future. Just as the vision of C&J Marketing: Let digital tools achieve creativity and dreams.